Founded by Marcus Arkan and Max Afzalimehr, who have a combined 30 years of industry experience, Syndicate Mortgages LLC offers customized residential mortgages for purchasing or refinancing homes. Our personalized mortgage services include both FNMA/FHLMC specialty HARP loans, 80% LTV with no mortgage insurance, and 96.5% LTV down to a 620-credit score. We also offer a range of loan options, including 15-30 year loans, ARM mortgages, fixed mortgages, VA loans, equity lines, FHA loans, conventional loans, jumbo loans, reverse mortgages, and USDA loans.
Since its humble beginnings in a small Florida suburb in 2017, Syndicate Mortgages LLC has funded over $5 billion in home loans in the United States and Canada, helping make home buying dreams come true for thousands of borrowers. We are grateful to every one of our borrowers who have allowed us to grow our lending potential over the years and are dedicated to providing financial support and services to satisfied homebuyers.
Why use a mortgage broker?
Mortgage brokers can be a valuable resource for individuals looking to purchase a new home or refinance their existing mortgage. These professionals have access to a wide range of mortgage products from various lenders, and can help you find the best option to meet your financial needs and goals. They can also provide guidance on the mortgage process and assist with paperwork and other requirements. Using a mortgage broker can save you time and effort in the home buying process, as they can do the legwork for you and negotiate on your behalf to secure the best terms and rates. Overall, working with a mortgage broker can help make the process of obtaining a mortgage smoother and more stress-free.
For more than 20 years, we've been passionate about achieving better results for our clients.
We've worked with the majority of regional and local organizations, hundreds of nonprofits, and private equity funds.
Large multinational corporations
Leading private equity firms
Midsize companies
Small start-ups
Nonprofit organizations
Frequently Asked Questions
For more than 20 years, we've been passionate about achieving better results for our clients.
At our company, we are skilled at quickly learning the fundamentals of a wide range of industries and technologies. Some of the markets we have served include green technologies, internet/e-commerce, telecommunications, distance education/e-learning, and real estate, to name a few. Our diverse expertise allows us to adapt to new industries and technologies with ease.
At our company, we specialize in residential and commercial mortgages of all sizes. Our goal is not just to complete as many transactions as possible, but rather to build long-term relationships with our clients and partners for a better future. We offer a wide range of mortgage loan options, including conforming, non-conforming, jumbo, and commercial mortgages, as well as FHA and VA government-backed programs. We believe in taking a personalized approach to mortgage lending and are dedicated to helping our clients achieve their financial goals.
It is not possible for any mortgage lender to guarantee the best rates, as mortgage-backed securities are controlled by a wide range of investors who are constantly bidding on the entire country's mortgage portfolio. However, at our company, we can offer the best rates that we have available at the time of the application, and once we lock in the rate, it is guaranteed to remain for the duration of the lock-in period, which tends to be between 30 and 120 days. We always strive to provide our clients with the most competitive rates possible, and are committed to helping them find a mortgage that meets their financial needs and goals.
At Syndicate Mortgages LLC, we are committed to providing our clients with a fast and efficient loan process. Thanks to our proprietary technology, we have streamlined the process of obtaining a loan from us, making it easy for our clients to complete their applications and gather the required documentation. Our technology also allows us to pre-fill much of the information needed, saving time and effort for our clients. While we are constantly improving our technology to make the process even more convenient, we also understand the importance of maintaining a personal connection with our clients. That's why we have a team of live representatives available to answer any questions and provide assistance throughout the process. With our combination of advanced technology and personalized service, we are able to close on loans in as little as 30 days while also increasing customer satisfaction.
Established in Canada in 2008, Syndicate Mortgages has since expanded into the United States, building a strong presence in both countries and serving over 10,000 clients. With a reputation for excellence and an A+ BBB rating, Syndicate Mortgages has become a household name and a trusted choice for residential and commercial mortgage lending.
Syndicate Mortgage Established
We established our American Branch in Florida.
Built and Structured
Built our innovation and technology version 1.0
Swift Loan was born
Syndicate Mortgages LLC / DBA Swift Loan was born and $34M was funded the same year.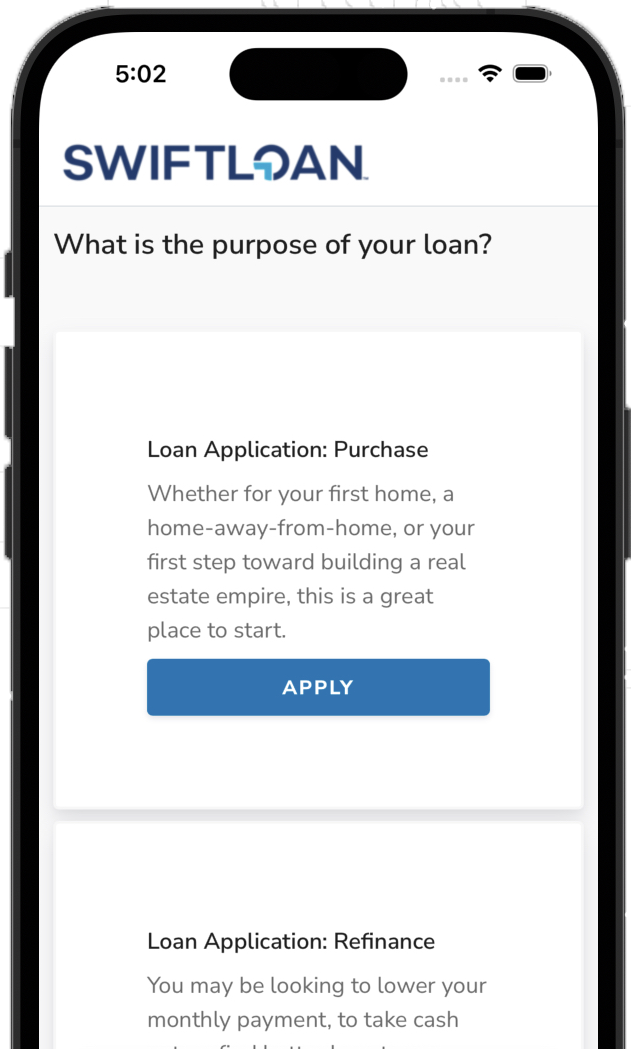 Speed Up the Loan Process
At Syndicate Mortgages LLC / DBA Swift Loan, we understand that the mortgage process can be complex and time-consuming. That's why we have designed an application process that is quick and easy to complete. To get started, simply click the button below and follow the prompts to begin your application. Don't wait any longer to take the first step towards homeownership or refinancing – start your application today and let us help you achieve your financial goals.